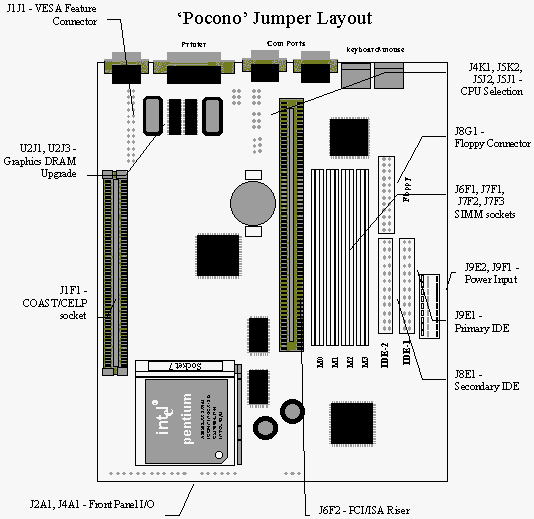 CPU Upgrades
| | | | |
| --- | --- | --- | --- |
| Processor | J5K2 | J5J2 | J5J1 |
| P100 | 1-2, 4-5 | 1-2, 4-5 | 2-3, 4-5 |
| P120 | 1-2, 4-5 | 2-3, 4-5 | 1-2, 5-6 |
| P133 | 1-2, 4-5 | 2-3, 4-5 | 2-3, 4-5 |
| P150 | 1-2, 4-5 | 2-3, 5-6 | 1-2, 5-6 |
| P166 | 1-2, 4-5 | 2-3, 5-6 | 2-3, 4-5 |
Cache Upgrade
Cache can be upgraded to 256K via a single COAST (Cache On A Stick) module inserted in the CELP socket. The Coast module must be of specification Ver 1.2.
Memory Upgrades
Memory can be upgraded to a maximum of 128MB. Simms need to be inserted in equal pairs in each bank and must be 72 pin EDO Ram. As standard there are 4 x 4MB simms installed in the machine.
Adding RAM is the most cost effective way to boost your computer's performance. Upgrade factory-direct today with Crucial Technology.
Video Memory
Standard video ram is 1MB. This can be upgraded to 2MB by inserting 2 x 512K SOJ EDO DRAM chips.