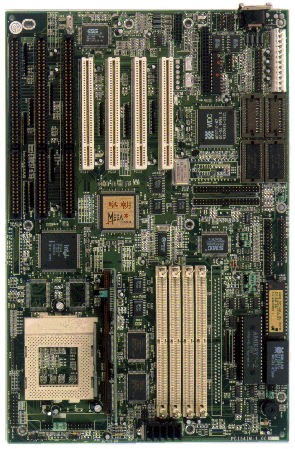 All brands are register trademark of their owners.
MEGASTAR PCI54IM Pentium Main Board

Key Features
On Board WD(Western Digital) VGA Chip With Native Window 3.1&95 MPEG Driver
On Board ESS 1788 16-Bits Sound Chip Support 3-D Sound
IRED Module option Communicate with Printer or NoteBook
Intel Pentium compatible at 75/90/100/120/133/150/166/180/200 MHZ with ZIF socket.
Supports up to 128MB on board using 72-pin SIMM DRAM or EDO RAM modules.
Supports both P.B (Pipelined Burst) Synchronous Cache which boost the system performance 10% higher than regular Asynchronous Cache.
32bit PCI 2.0 Slots (Peripheral Connect Interface) and 16bit ISA Slots (Industry Standard Architecture)
Two on board PCI-IDE ports which support PIO mode 3/4 and bus mastering (up to 22MB/sec).
Support 1 floppy port(Up to 2.88MB), 1 parallel port(EPP, ECP port), 2 serial port(16550 Fast UART), and 1 PS/2 mouse port.
Award or AMI Bios with "Green" PM and sleep modes at the CPU and Card/Peripheral Level.
Windows 95 Plug and Play compatibility for both PCI and ISA cards.
---

(c)1996 Kam-Tronic Computer Company, Ltd.
Kam-Tronic reserves the right to pass on all customer details to third parties except where restricted by applicable law.
1st January,1999